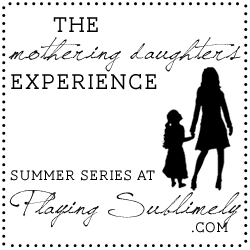 My brain never rests.  It is constantly contemplating, always considering possibilities.  Often it's exhausting and the pace makes me like myself a little less; but most days I love the go, the rush, the opportunities.  I've been called a scatter brain more than once (it is so very true), and sometimes this blog is a reflection of that reality.  I have grown to be okay with it though, because it's my blog and it should reflect it's author, it should be real.
As this blog has come into her own, there have been several themes that I see reoccurring.  To me they are the heartbeat of Playing Sublimely, and quite fitting, they also happen to be the heartbeat of who I am.   Though my side bar will show many different categories, they all actually fall into one of three broader themes:  Bible study, being a mother, and house remodeling.  The last seems so shallow when compared to it's predecessors, but it's actually not at all a shallow thing.  This home that my husband and I have taken apart and put back together room by room has been one of the greatest joys of our marriage…and it really has nothing to do with the house itself.  It's been about working together, about helping each other, about enjoying laboring alongside of the person you love.   And so despite the awkwardness that sometimes comes when a remodeled bathroom falls on the heals of the life and death of Moses, this blog will continue to be a reflection of this life the Lord has given me to live.
And now for my point:  there has been an "idea" floating in my brain for months, actually over a year now.  It's been my desire to put together a collection of stories about the experience of mothering daughters.  Having daughters has truly been one of my greatest joys, I know you know this, I write about it often.  It's been an experience unlike anything else.  It's full of drama, hair, love, tulle, tears, laughter, hair, clothes, prayers, and hair bows.  Except now there are no more hair bows, we are all kind of over them.  Mothering my girls in one day can provide enough writing material for any blogger for a lifetime…I know you feel the same way.  And that is precisely the point.  I want to hear your stories.  I want to hear what mothering daughters is like for you.  I want to create a place where we see ourselves in one another's mothering experiences.  I think there is value in sharing this gift, in reading each other's stories.
My girl's school has a tradition for their kindergarten classes.  At the end of the school year,  all the moms come together with their children around a big table to share stories and coffee.  It is such a beautiful event.  Each mom has a chance to share something about her child with all the other moms present.  Each story is different, but every story is somehow connected to the next.  I sat around that table and cried as each mother spoke, not because the stories were sad, but because I totally "got" what she was sharing.  I felt what that mother was saying, I knew her love, I knew how she felt.  And so is my goal for this new series that has finally become real:  The Mothering Daughters Experience.  We will officially begin sharing stories on Monday June 6th.  There are just a few of my favorite momma bloggers scheduled to share their experiences, but that is just to get us started.  What's your story?  What's your experience?  It doesn't have to be perfect, just real.  I hope you will join us, and if you are interested in sharing, I would be honored to hear from you.
Love,
Amy